I recently decided i was in need of a new setting powder, after having used Nude by Nature for about a year and finally deciding it was much to powdery on my skin for my liking (But i guess that's for another post!). What i like about the product is that it is so light on my skin!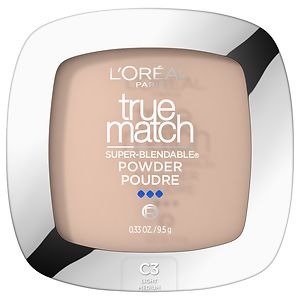 In my opinion, it is not something you would use on its own to give coverage as it is a very sheer powder, and i find it better to just use it to set foundation.
The feel of the powder on your finger is literally like velvet! It is so soft!
I really enjoy the packaging of the compact. It has two sections- the product on top, and a compartment underneath that holds the sponge and a mirror.
There isn't really anything about the product specifically that i don't like, but i found that using the sponge to apply the powder on top of foundation leaves a light residue on the sponge that is transferred back onto the powder in the pan and hardens it a little. Having a sponge is a good idea for if you're on the run, but i have never been a fan of sponges as i don't think they distribute the product evenly, so i use my Nude by Nature brush to lightly dab it on my face. I find the brush works well because it is a little more dense than a normal powder brush and i don't struggle to get the powder on to the brush.
I found that you need to be careful when choosing your shade as they are all nearly the same, some are just warmer than others and when held to the light you can only just see a difference between them.
I recommend using a tester to pick your shade, then going into the sun to see what it looks like. I made the mistake of just testing one along my jaw line and buying it, only to realise in the sun it was very orange! At least now i can use that one on the odd chance that i actually do tan.. ha ha
This powder is also quite long wearing and doesn't end up patchy at the end of the day.
Talk soon guys x